COVID-19 in Africa: Taking stock of the impacts on the informal economy, supply chains, and labour markets
The ongoing Covid-19 pandemic has imposed economic costs and burdens on African countries that have compromised the implementation of development strategies and policies, and of international development cooperation. The lockdowns that were introduced in mid-March and later have halted economic activity and resulted in the closure of many small and medium-sized enterprises, including many in the informal sector. Consequently, unemployment and poverty levels have risen and innumerous livelihoods have been threatened. The slowdown in global trade and investment and the accompanying reduction in the demand for commodities have also rendered many economies weak. Countries such as Ethiopia and Kenya whose exports are well incorporated in global textile and agricultural value chains have been particularly affected by reduced volumes of trade.
These shocks require immediate policy responses that will mitigate the direct and adverse impacts on poverty and livelihoods. A balanced approach of containing the pandemic – amidst rising infection rates – and allowing for economic activity to resume that takes welfare of the poor into account is essential. This also implies that adjustments have to be made to policies as well as medium and long-term strategies initiated by local policy makers and development cooperation partners. Germany's cooperation with African partners has been guided by the "Marshall Plan with Africa" that emphasizes amongst others: employment creation, the support of vocational education and training opportunities that match the needs of the labor market, the support and formalization of micro-, small- and medium-sized enterprises, the integration of commodities into global value chains as well as the promotion of trade and investment opportunities.
This virtual workshop organized by PEGNet, GIZ and GIGA took stock of the evidence on socio-economic impacts of Covid-19 in Africa, with particular reference to some of the priority areas that have been identified by German development cooperation. We discussed the immediate and longer-term implications for development cooperation partnerships and its role for recovery and future resilience. We seeked to provide answers to questions such as:
What are the impacts of COVID-19 on trade, supply chains, and foreign investment in Africa? How deep are the shocks and can we expect a quick recovery?

What direct and indirect impacts does COVID-19 have on African labor markets and the private sector, especially on micro, small and medium enterprises? How resilient is the informal sector to economic shocks?

What are feasible short-term policy responses to the crisis and how can development cooperation adjust? Is there a role for investment promotion instruments, such as the "Compact with Africa", to mitigate adverse impacts? Which are appropriate and feasible options to support the informal economy? How can cooperation be re-shaped in the longer term to promote developing country resilience?

How can we strengthen the collaboration between researchers and policy makers/practitioners to promote evidence-based decisions making?
We would like to thank all speakers for the interesting and lively discussions!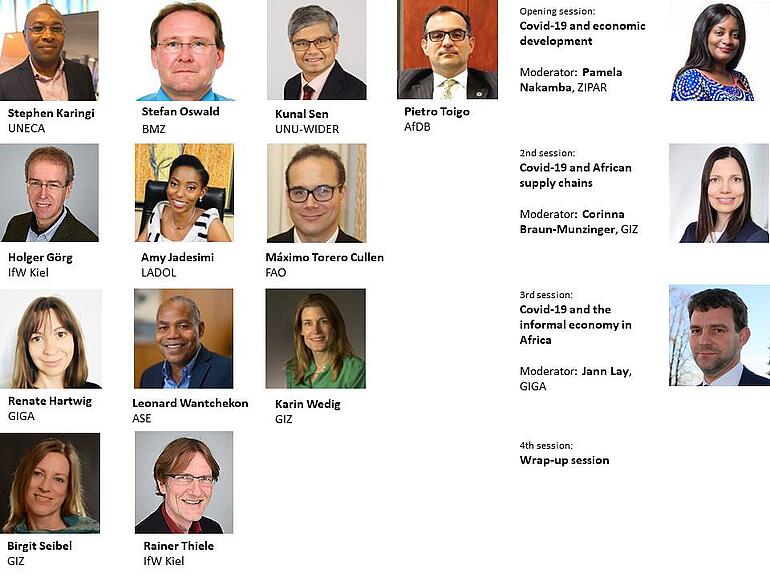 Organisers
The conference is co-organised by the Deutsche Gesellschaft für Internationale Zusammenarbeit (GIZ), the German Institute for Global and Area Studies (GIGA), and PEGNEt as part of the Kiel Institute for the World Economy (IfW), on behalf of the German Federal Ministry for Economic Cooperation and Development (BMZ) and supported by the KfW Development Bank.